Please note that the browser you are using is either outdated or not supported by this website. For a better browsing experience, try one of the following:
This Week's Tasting
Premium Wines of Croatia, with Importer Mirena Bagur
January 8, 2020
As with Greece and southern Italy, there has been wine making on the Dalmatian coast of Croatia since antiquity. Also as in Greece and southern Italy, Croatia is experiencing a revolution in winemaking with new and delicious interpretations of traditional local grapes.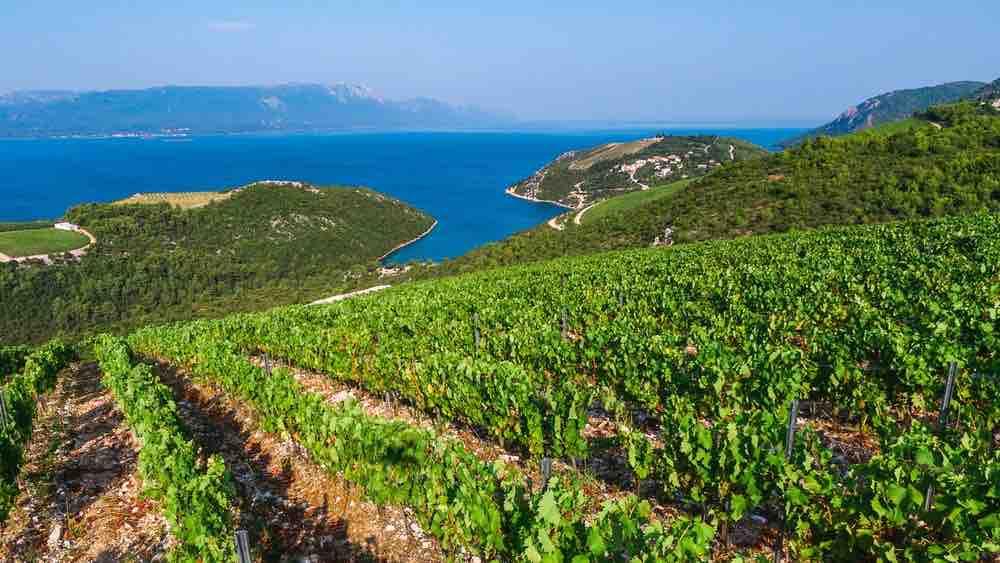 Peter writes,
We are happy to welcome Mirena Bagur from Dalmatia in Croatia. Mirena's introduction to Croatian wines came working at her grandfather's vineyard as a child. She has quite a story of promoting the culture and history of Croatia. Now she is promoting the Komarna appellation of Dalmatia. The principal white grape is Posip. The principal red grape is Plavak Mali. The father of that grape, Tribidrag, is in full recovery mode.
The vineyards of Komarna were literally blasted out of solid limestone. Talk about rocky soil. The wines made here are quite serious, full bodied and complex. The vineyard slopes are as steep as anywhere in the world. While the wines of Komarna are reasonably new, the history of wine making in Croatia dates back thousands of years to even before the Greeks and Romans.
We will begin the tasting with the 2018 Terre Madre Posip, the only white in the tasting. Posip is native to Croatia and was actually discovered wild before being cultivated. These vines are ungrafted prephylloxera. This wine is intense and aromatic with great balance.
Most of the reds are made with Plavic Mali. The name means "little blue" and indeed you get small grapes with a blue color. The 2015 Volrevic Plavic Mali Syrtis Blue label is a really good introduction to this grape. It is rich but well behaved. The 2016 Rizman Tribidrag is made with a variety that traces back to ancestral Zinfandel. It traveled to Puglia as Primitivo and then to California as Zinfandel. The rich fruit and spice you would expect are both here yet with a definite European influence. The 2016 Terre Madre Plavic Mali Premium shows some complexity with dark red fruits and spice. There is good acidity here as well.
We will then taste the 2015 Rizman Plavac Mali Reserve and see if you notice any difference in the style of the two Rizman wines. The 2013 Volarevic Plavac Mali Syrtis Gold Reserve is at the very top level of these type of wines. Besides rich complexity you get subtle notes of things like cinnamon and orange peel as the wine opens. Very interesting.
&nbsp
White
2018 Terre Madre Posip: Balanced and rich with intriguing aromas and flavors of apricot and citrus. This wine is great with seafood, as you would expect. Very Good Plus Plus. 24/bottle 21.60/mixed case 20.40/case
&nbsp
Red
2015 Volarevic Plavac Mali Syrtis Blue Label: Full bodied with black plum, hints of cranberry and clove, and other spice notes in the finish. Very nice balance. Very Good Plus Plus 37.00/bottle 33.33/mixed case 31.45/case
2016 Rizman Tribidrag: This dark red is overtly spicy with raspberry and black tea and notes of almond and bramble. The mid palate is quite rich and then settles into a long dry finish. Very Good Plus toExcellent 46/bottle 41.40/mixed case 39.10/case
2016 Terre Madre Plavic Mali Premium: Cranberry and pomegranate with hints of dark cherry and black pepper and dusty tannins. The finish is balanced and smooth. Very Good Plus to Excellent 40/bottle 36/mixed case 34/case
2015 Rizman Plavac Mali Reserve: Deep red. Black plum and bramble with floral notes. Touches of smoke and leather and a spicy finish. Very Good Plus to Excellent. 46/bottle 41.40/mixed case 39.10/case
2013 Volarevic Plavac Mali Syrtis Gold Reserve: Plum, black cherry, raspberry with notes of cinnamon, leather and tobacco. Rich mid palate and a dry finish with nuance and complexity. Exotic and balanced. Excellent 65/bottle 58.50/mixed case 55.25/case
&nbsp
Special six pack: One bottle each of the above wines for a special price of $232
Special case: Two bottles each of the above wines for a special price of $439
&nbsp
Order by phone at 617.367.8605, or reserve here: order@federalwine.com
&nbsp
- Peter Hemenway