Please note that the browser you are using is either outdated or not supported by this website. For a better browsing experience, try one of the following:
Dailuane 11 YO 59%
Fine Under the Radar Speyside. Read on...
April 29, 2021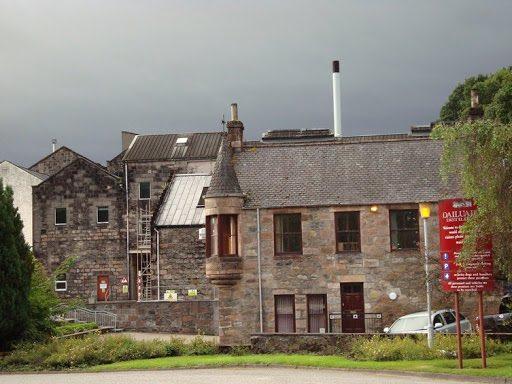 &nbsp
Dailuane distillery was founded in 1851 and was once Scotland's largest single malt distilleries. It has made whiskies as components for blends for most of its life and still does with a large amount to Johnnie Walker. The distillery only began releasing single malts under its name in 1991 in the Flora & Fauna range.
This new release is aged in sherry casks and spends 11 years taking all the good things that barrel had to give.
Both first two customers who tasted it bought bottles, one of them who said he was a whisky lover, thought it must be a good value because it had so much going on.
This is a single malt to enjoy.
Nose: The sherry works in with some fruitiness. There is honey, too, in this very well-balanced malt.
Taste: The barley sings. It is very intricate... The honey comes through, and so much more. The sherry just brings it all together nicely.
Finish: Very nice, very long, and pleasant. A "moreish" malt one that makes you want just a little more.
&nbsp
Dailulane Speyside 59% Regular $114.99 - Sale $84.99
&nbsp
In stock
&nbsp
Free Delivery on Orders of 175 or more in Greater Boston
Fedex Delivery in Mass $20
Sorry, we cannot ship spirits out of state
&nbsp
- Joe Howell
&nbsp
Order by phone at 617.367.8605, or reserve here: order@federalwine.com
&nbsp
&nbsp
Torabhaig Distillery, Isle Of Skye - First Release - 2017 Legacy Series

"If you manage to get a bottle, for Christ's sake open it." - Dave Broom read on...

March 24, 2021

&nbsp

This new independent distillery really excites me. It was started by the folks that bring us Mossburn. The Torabhaig first release sample I tasted last week was very impressive. Its mouthfeel and balance make for a special whisky and a special distillery that should be the first of many good things to come.

Whisky Magazine critic Dave Broom got it just right when he wrote:

"The first releases from Torabhaig, Skye's newest distillery has arrived, and it is a belter. Inevitably this will sell out rapidly but hopefully there will be purchasers who are more driven by interest in flavour than venality.

"Nose: Light straw. There is light oiliness, and a real juicy melon-like sweetness melon. Behind this is smouldering smoke, and light mint leaf. Overall it comes across as cool and airy… and balanced with a poise belying its youth. The herbal side then comes through – sweet cicely, and green fern mixing with fresh mint, and then some dried beans which morphs into fresh barley. With a little water added, you get salt-washed rock, grapefruit, light smoke and potato starch.

"Palate: A sweet start smoke with touches of salted liquorice, violet and soft smoke. The mid-palate is beautifully textured, rounded and lightly clinging. It's unusual to have such concentration so early in maturation.

In the middle of it all is prickly smoke, gentle fruit, light brine. Water shows the balance beautifully and the lack of any green edginess, or hollowness. There's also more cereal now.

"Finish: Blooms into fresh fruits, and salt/smoke.

"Conclusion: Love the fact that the label has listed residual phenols (16ppm. for the geeks out there) rather than just the oft-misunderstood in-grain level (55ppm). Barley variety? Concerto. Yeast type? Pinnacle MG+.

A new star is born.

Talisker.. you've got serious competition.

If you manage to get a bottle, for Christ's sake open it."

&nbsp

This first release is limited . First come first served.

Collectors, yes. Speculators, no.

Limit - two bottles per person, please

&nbsp

Torabhaig 2017 Legacy Series 46%

$64.99

In stock

&nbsp

We deliver in Greater Boston & can ship via Fedex anywhere In Massachusetts

Sorry other 49, we don't ship out of state

Joe Howell .

&nbsp

Order by phone at 617.367.8605, or reserve here: order@federalwine.com

&nbsp

&nbsp

Introducing GlenAllachie

Billy Walker Back at Last. read on...

July 30, 2020

&nbsp

Most scotch drinkers know Billy Walker from his 2003 purchase of Benriach, and later GlenDronach and GlenGlasaugh distilleries. Anyone who tasted those malts under Billy's direction knows he is an artist with whisky -- at any age, you know that whatever he's putting in a bottle, it's ready to drink. In 2016 he sold all three to Brown Forman (maker of Jack Daniels.) In 2017, Billy and two partners bought GlenAllachie.

The GlenAllchie Distillery was built in 1967 . Let's just say, the first 50 years was just a practice run. Now it's Scottish owned and making whisky for people that love whisky. In just a few years, this gentleman has done immense work: Since he reopened it in 2017 GlenAllchie has been honored as Distillery of The Year, and the whiskies have been taking medals. When it comes to blending and bottling he works it so well. This is the first run, so we will not have a lot of product, It will be first-come first-served.

&nbsp

We are offering the following:

&nbsp

10 Y.O. Cask Strength 55.5% Nose: A big experience of dark chocolate, raisins and heather honey,

with layers of sweet spice and orange peel.

Taste: Rich notes of dark chocolate, raisins, treacle and heather honey, sweet spices orange peel

and hints of eucalyptus. $89.99

&nbsp

12 Y.O. 46% Nose: Butterscotch and honey playing the lead, with raisins and mocha in the background.

Taste: Honey, marzipan and bananas, with lashings of butterscotch, raisins and a delicate hint of mocha. $69.99

&nbsp

15 Y.O. 46% Nose: Overflowing with raisins, butterscotch and sweet spices.

Taste: The rainbow of sweet spices, raisins and butterscotch develops to banana, orange peel and dark chocolate. $104.99

&nbsp

18 Y.O. 46% Nose: Fresh vanilla, toffee, butterscotch

Taste: Raisins, marzipan, heather and honey, with rich notes of dark cherries, spices

and subtle hints of dark chocolate. $174.99

&nbsp

25 Y.O. 48% Nose: Sweet spices, marmalade and sultanas balanced in total harmony.

Taste: Lashings of sultanas, pineapple and dark chocolate, followed by layers of Christmas cake,

marmalade and sweet spices. $474.99

&nbsp

Free Delivery on Orders of 175 or more in Greater Boston

Fedex Delivery in Mass $20

Sorry, we cannot ship spirits out of state

&nbsp

- Joe Howell

&nbsp

Order by phone at 617.367.8605, or reserve here: order@federalwine.com

&nbsp

&nbsp