Please note that the browser you are using is either outdated or not supported by this website. For a better browsing experience, try one of the following:
Tomatin 30 Y O
Great Deal on a Fine Highland Malt. read on...
March 27, 2020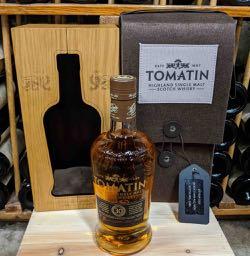 &nbsp
Patience is a virtue, we waited a long time for this one. In these uncertain times we have just the thing to put a little balance on this situation, a Thirty Y.O. Highland that was matured in a combination of ex- bourbon casks and traditional oak casks at a great price.
The Tomatin 30-Year-Old delivers fresh aromas of soft fruits, golden honey and smooth white chocolate. On the palate, it's a fusion of tropical fruits and creamy buttered vanilla mingle in an explosion of sensational mixed spices
This single malt hits your palate with a full mouthfeel and your taste buds will be doing a dance. Balanced and in great harmony, its grace and elegance make it worth what people have been paying for it.
It comes in its own wooden presentation case and leatherette carry pouch. That only enhances it as a special gift that you should give to yourself or a friend
Crazy times make for crazy prices We got a great deal on this whiskey that Jim Murray called brilliant. We took all we could get. Not a lot.
This is great value - take a look at the price of 30 Y.O. single malts.
&nbsp
Tomatin 30 Year Old Batch 1 46 ABV
Reg:$599.99 - Sale price $324.99
&nbsp
Delivery Free in Greater Boston
We can ship via Fedex anywhere In Massachusetts
Sorry other 49, we don't ship out of state
Joe Howell .
&nbsp
Order by phone at 617.367.8605, or reserve here: order@federalwine.com
&nbsp
&nbsp