Please note that the browser you are using is either outdated or not supported by this website. For a better browsing experience, try one of the following:
This Week's TUESDAY Tasting
John Duval Wines with John and Tim Duval
October 18, 2022
...will be a seated presentation, $25 per person, applicable to a purchase. Reservations required.
&nbsp
Federal WineLine

Tuesday, October 18, 6pm

John Duval Wines with John and Tim Duval

In our office at 1 State St.

This will be a seated presentation

$25 per person, applicable to a purchase

&nbsp

Giorgio Rivetti In person Wed 11/2

The Federal Case Wed 11/9

The Federal Executive Case Wed 11/16

Champagne! Tues 11/29

&nbsp
---
&nbsp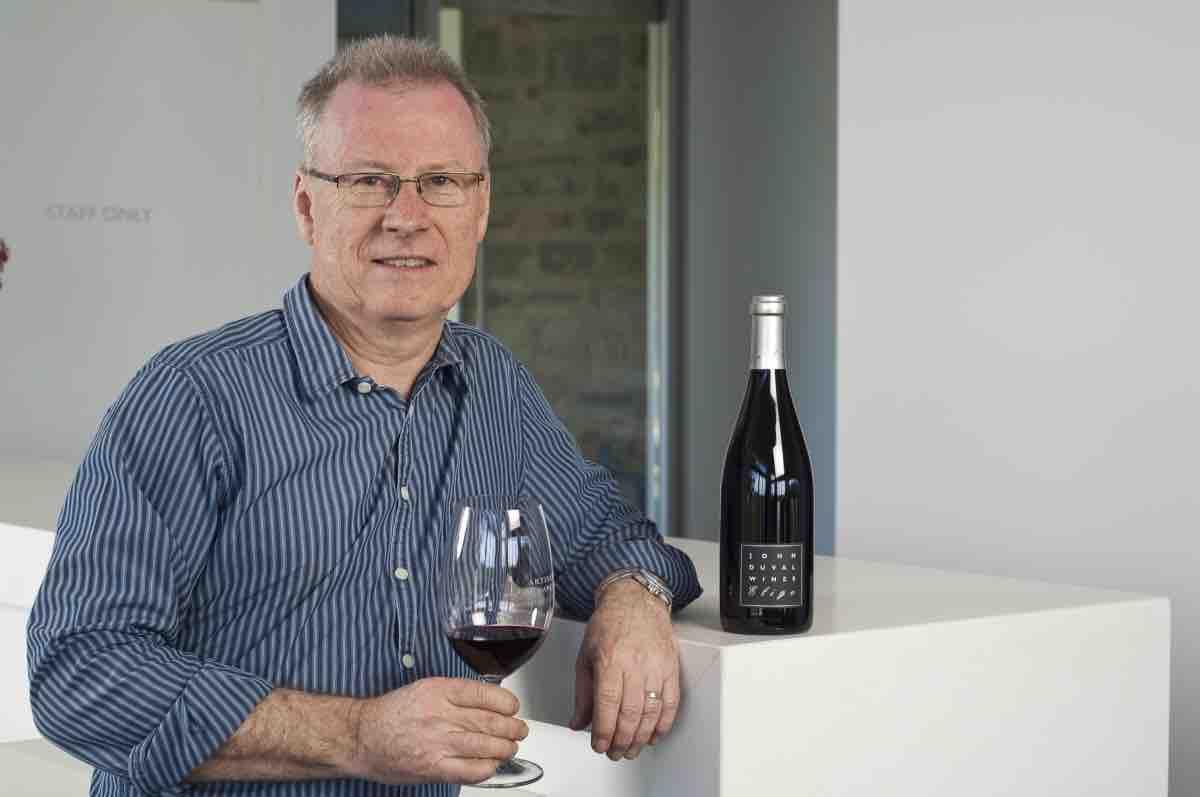 &nbsp
John Duval Wines with John and Tim Duval
&nbsp
John Duval has had an illustrious career in winemaking. He spent 29 years at Penfolds, rising from apprentice to chief winemaker . Under his stewardship, the winery received numerous awards; IWS Winemaker of the Year in its London in 1989; in 1991, and 2000 IWC Red Winemaker of the Year there,
He oversaw Penfolds Grange, which had the prestige that Lafite had in Bordeaux or Chave in the Rhone. In 1995 the Wine Spectator named it their Wine of the Year.
He is now a consulting winemaker on three continents. In 2003 he established his eponymous winery, drawing on several of the best grape sources he had used at Penfolds.
Plexus is a Rhone-style blend of Shiraz, Grenache, and Mourvedre. In 2006 he released his first Shiraz, Entity. He calls his reserve Shiraz, Eligo, his pure Grenache Annexus, and has added a Rhone-style white under the Plexus label. Three years ago, I loved his Annexus Mataro, one of the finest expressions of the Mourvedre grape I have ever tasted
John Duval Wines do not replicate the Penfolds. Of either the last century or today. Freed to express what he wants, the Duval style is purer, more modern, more lifted, and more precise. He wants to showcase what he believes to be some of the best fruit in the world.
We have followed John's wines since the 2004 Plexus and consistently found them to be smooth-textured, ripe, and precise. We are delighted to welcome John and his son and co-worker Tim Duval, John's son and co-worker, next week. John's traveling days are ending. We are told this is likely the last time we will see him here.
We think his wines will change many perceptions of the quality and style that fine Australian wines can attain. John and Tim are happy to autograph bottles. If you can't come to the tasting, you can request yours autographed even if you can't come to the tasting
Notes are from several critics, mostly Australian.
White
2019 John Duval Plexus Marsanne Viognier Roussanne: "Limpid gold. Mineral-accented citrus and orchard fruit aromas are complemented by suggestions of honey and white flowers. Chewy and focused on the palate, offering pear nectar, white peach and Meyer lemon flavors that deepen as the wine opens up. Delivers a solid punch but comes off lively, finishing with very good persistence and a repeating floral note. Vinous ." %32 Mixed Case, 29; Case, 27
Red
2019 John Duval Plexus GSM; "Deep to almost opaque purple color with a brightness in the rim. A nose of liquorice, plum liqueur and black loam. The palate is a studied expression of velvet. No edges or corners at all. Rich and flowing from front to back with gentle precision. Goes long and lingers even longer." Stuart Knox $42 Mixed Case, 38; Case, 36
2020 John Duval Entity Shiraz; "Ink black core, relaxing only slightly to a deep purple rim. Plums, dark chocolate and vanilla pods on the nose. Deep, powerful, and brooding on the palate. Dark fruits, black olives and woody spices all coil around each other, vying for attention, leaning heavily into the savoury spectrum. The tannins bring a further sense of power with a firmness that suits, while still retaining a fine powdery texture. A serious food wine." 42 Mixed Case, 38; Case, 36
2017 John Duval Annexus Grenache; "Medium purple color, bright and youthful. Very fragrant – violets, red plums and oak- spice. A lovely raspberry overlay. Supple and softly red-fruited when sipped. Terrific length and structure with acidity to reward cellaring. Delicious wine." Nick Butler $65; 10% 58.5; Case, 55
2018 John Duval Annexus Mataro; "It's all about putting the spotlight on fruit from a dry-grown centenarian vineyard in Light Pass. I love this. It's a commanding wine. It oscillates between deep, dark, spicy fruit to savoury, meaty flavours. It's long and pure, with poised yet determined tannins. I doubt Mataro gets any better than this. Respect." Halliday Wine Companion $65; 10% 58.5; Case, 55
2017 John Duval Eligo Shiraz "This smells like it's going to be monstrously huge—the nose is charry, spicy and dense. However, in the mouth, there is a bright, vibrant lightness to the core of red fruit. It's spectacular. There is black cherry, raspberry pip, damson, red apple skins and salted licorice. I always think it a great thing when sweet fruit is tempered by either salty/savory spice or a hint of hung deli meat. It's the yin to the yang, and it's here. Very good. Drink it now through 2037." Wine Advocate
$100; Mixed Case, 90; Case, 85
Discounts
Any six - 11 bottles of the above for a mixed case price
Any twelve bottles of the above for a 15% discount
Reserve a place here: order@federalwine.com
Order by phone at 617.367.8605, or reserve here: order@federalwine.com
&nbsp
Please pass this on to any friends who are wine enthusiasts!
&nbsp
- Len Rothenberg
---
&nbsp
FREE DELIVERY!
downtown on orders more than $75;
in Greater Boston on orders more than $199
&nbsp