Please note that the browser you are using is either outdated or not supported by this website. For a better browsing experience, try one of the following:
This Week's TUESDAY Tasting
Graceful Grill Wines
July 2, 2019
Many of the lighter foods we are grilling these days ask for lighter smoother wines than the ones that do battle with steak & burgers. Six wines this week (as well as the seven roses from last) that will stand up even to spicier foods, but will glide gracefully over your palate.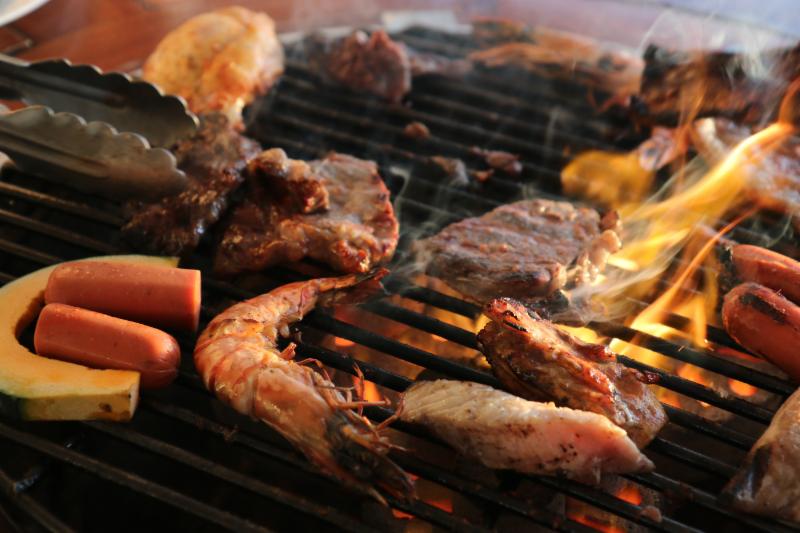 Three Whites
Pinot Gris is the same grape as Pinot Grigio, but usually made in a richer, more concentrated style. That said, its wine is too often like the three bears' porridge: sometimes too sharp and lean; while others soft, sweet and flabby. The 2017 Raptor Ridge Pinot Gris gets it just right, clean and balanced acids with nicely fleshy fruit in a dry wine. Good price, too.
Wines based on the Albarino grape is Spain's quintessential seafood, especially shellfish wine. Ian Brand, who apprenticed with Randall Grahm, shows why the San Francisco Chronicle named him its 2018 Winemaker of the Year. His La Marea Albarino from the ancient seabed Kristy Vineyard in Monterey has all the lemon and chalk you would expect from the Spanish version with a nicely rounded fruit to boot. Shrimp – yes. (BTW we also got his P'tit Paysan Chardonnay which he aims at Petit Chablis and hits the mark)
In 2017 Domaine Belle made an excellent northern Rhone white in the white limestone soils, Les Terres Blanches in Crozes Hermitage. In conversion to organics, the mostly barrel ferment a blend of Marsanne and Roussanne to make a lightly spiced rather rich wine that wears its time with wood lightly. Rich, but not heavy, it will enhance white meats as well as seafood.
& Three Reds
Mon Tout, (my all) Is winemaker Olivier Bellanger's pun on Monthout sur Cher his Loire valley home. For Domaine la Piffaudiere Rouge he farms its native Pinot d'Aunis and Gamay organically and makes a lighter, sleeker, more modern wine. Its light body, vibrant fruit and acidity, and dry minerally finish make it a good companion to grilled poultry or veggies. Served slightly chilled, it is sure to become a favorite.
Corsica, nominally French, is culturally a Franco-Italian melange. Petroni's Corsican Red is exactly that: half Niellucciu, what Napoleon would have called Sangiovese, the other half Grenache and Syrah. The wine is medium bodied, sleek, with nice dark fruit over a moderate tannic structure; Italian Flair on a solid French base.
Grenache can make very different style wines. It can be as deep and dark and structured a la Vieux Telegraphe's Chateauneuf du Pape, or pretty and airy with lifted and linear pure cherry fruit as in Rayas.2017 Hentley Farms Grenache Villain & Vixen is firmly in the second category. Although from Australia's warm Barossa valley, it has only moderate alcohol, and a purity and lift that echoed a Vacqueyras of a Rayas label I tasted last week – at a quarter the price. It is juicy and delicious
White
2017 Raptor Ridge Pinot Gris; Color: light tan; Aroma: heady and juicy, rather full, yellow plum & earth; Mouth: bright lemony note then fresh yellow plum, clean racy full sweet acid long finish; Very Good Plus 18.99; Mixed Case, 17.09; Case, 16.14
2017 I Brand & Family Albarino Kristy Vineyard La Marea; Color: light gold green; Aroma: rather sweet, rich very dense, thick, lightly mineral; Mouth: light rather pretty clean light bright acid, yellow plum and stone dust; Very Good Plus 24.99; Mixed Case, 22.49; Case, 21.24
2017 Domaine Belle Crozes Hermitage Les Terres Blanches; Aroma: light wood, fresh rather pretty rather fine; Mouth: medium fleshed with bright herb inflected fruit, , clean long low finish, rather fine, wood accented finish; Very Good Plus 26.99; Mixed Case, 24.29; Case, 22.94
Red
2018 Domaine la Piffaudiere Mon Tout Rouge; Color: ruby, very light Nose: forward spice and herb, bright red fruit Mouth: vibrant, forward red fruit and bright mouth-watering acidity, dry finish with delicate lingering tannin. best served lightly chilled Very Good Plus 18.99; Mixed Case 17.10; Full Case 16.14
2017 Domaine Petroni Vin de Corse; Color: very dark; Mouth: juicy forward bright clean firm, tight acid, fine tannins, long; Very Good Plus 14.99; Mixed Case, 13.49; Case, 12.74
2017 Hentley Farms Grenache Villain & Vixen; Color: vivid red black; Aroma: rather sweet very pretty rather clean, fruity; Mouth: juicy forward with dense rich fruit, rather pretty Beaujolais-like fruit, very modern, clean; Very Good Plus 21.99; Mixed Case, 19.79; Case, 18.69
7-1 Graceful Grill Case: Special, two each of the above wines - $217
Instore only 7-1 Graceful Grill Pack: Special, one each of the above wines - $115
mix any 6- 11 above wines for 10% off
any 12 or more for 15% of
Order by phone at 617.367.8605, or reserve here: order@federalwine.com
Please pass this on to any friends who are wine enthusiasts!
&nbsp
- Len Rothenberg