Please note that the browser you are using is either outdated or not supported by this website. For a better browsing experience, try one of the following:
2018 Feudo Montoni Grillo Della Timpa + 2017 Feudo Montoni Perricone Vigna del Core
Discovered and Rediscovered in Sicily
June 1, 2020
&nbsp
Free Delivery - see below
&nbsp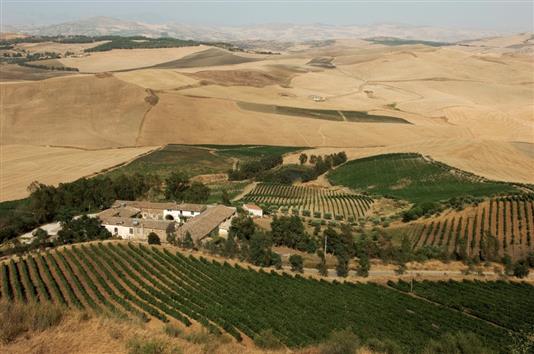 &nbsp
Fabio Sereci's family took over this ancient property back in 1469. The land and the agriculture have been going on at Feudo Montoni for centuries. To this day This estate in Sicily's central mountains farms ancient clones of wheat and olives as well as the original clones of grape varieties. Its history has been a wondrous journey. It has never been better than now, under the supervision of Fabio and Melissa. Everything is unique, planted exactly where it should be. All their wines are single vineyards.
The 2018 Feudo Montoni Grillo Della Timpa is the winery's recognition of the new discovery that the Grillo grape can make some of the best dry white wines of Sicily. Nobody knows where it comes from. Puglia is one guess and a cross between two other Sicilian grapes is another. Some say it is the same as a grape in Liguria. Whatever. For a long time it was the main grape for sweet Marsala until the best producer in Marsala decided he could make a great dry white with it and he did. Now this is happening all over Sicily and a new treasure is born.
On the other hand, Perricone is the oldest red wine grape in Sicily. Like so many other varieties in Europe, Perricone was almost completely destroyed by phylloxera. It produces more tannic wines than other Sicilan red grapes and has been used by many as a blending grape to give more structure to wines like Nero d'Avola. The 2017 Feudo Montoni Perricone Vigna del Core shows how great these grapes can be on their own. Impressive structure with a balance of spicy fruit and a layered old vine texture give us a complete and complex wine. The Core "Heart" vineyard is actually shaped like one.
&nbsp
2018 Feudo Montoni Grillo Della Timpa: Bright straw with green highlights. White peach, apricot and citrus with jasmine, almond flowers and white spice. Fresh persistent saline minerality with a long finish highlighted by note of wild grasses. Excellent 21/bottle 114/six pack 214/case
2017 Feudo Montoni Perricone Vigna del Core: Ruby red with purple notes. Robust dark red fruits with licorice and mocha. Plums and raspberry accented by a black pepper note. Fresh round texture with polished tannin and a balanced finish. Excellent 26/bottle 140/six pack 265/case
&nbsp
Wine will arrive in two weeks
&nbsp
Order by phone at 617.367.8605, or reserve here: order@federalwine.com
&nbsp
- Peter Hemenway
&nbsp
---
&nbsp
FREE DELIVERY!
downtown on orders more than $75;
in Greater Boston on orders more than $175
&nbsp