Please note that the browser you are using is either outdated or not supported by this website. For a better browsing experience, try one of the following:
Extra Special Whiskies for Father's Day
Cream of Kentucky 13 YO + Bruichladdich Black Art 7.1 + Tomatin 30 YO, read on...
June 15, 2020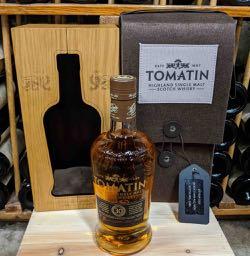 &nbsp
For The Bourbon Fan
Cream of Kentucky Bourbon 13 Y.O.
&nbsp
The Cream of Kentucky brand that was very popular in the mid-thirties and forties with the added distinction of labels designed by Norman Rockwell. When Jim Rutledge retired after 20 years as the master distiller of Four Roses, he decided that he wanted to do his own thing and purchased the rights to the brand.
Four Roses had been sold only in Asia, but Jim made it iconic, first in Kentucky and then nationally.
To do the same thing with Cream of Kentucky., he knew he needed a flavor profile with a mellow mouth feel and a long and very smooth finish. He found one that is a winner. It has that nice creamy mouthfeel with gentle fruitiness a hint caramel and vanilla, plus some soft woody characters.
This wonderful 13 Y.O. is limited and will not be around for long. It is a winner from a man who strives to put great product in the bottle. What can a bourbon drinker enjoy more than a wonderful Bourbon, knowing that the bottle purchased, profits will be going towards a very eco friendly distillery that will produce great bourbon and Rye, that Jim Rutledge will own.
&nbsp
Cream of Kentucky 13 Y.O. Batch 4 51% $159.99
&nbsp
And if he prefers fine, rare malts...
Bruichladdich Black Art 7.1 25 Y.O. 48.4%
&nbsp
Jim McEwan felt that blending is a black art, so he saved the best of his magic for the small batch Bruichladdich Black Art Series
We have never been able to get as much Black Art as we wanted and only got a few bottles of this edition because a couple of elite restaurants had to give it up. It's a great whisky with depth that evolves and goes on and on. Adam Hartnett has continued what Jim started and I feel Jim would be very happy with the impeccable blending of those special casks.
Nose: Rich marzipan, then walnut, creme caramel, hints of strawberry, violet and coconut. There is a heavy fruit style with plum, poached pears, raisin and grapefruit and after opening further wood spice, nutmeg, toasted oak, roasted coffee beans and muscovado sugar. An absolute delight to the nose
Palate: A little sharpness is a nod to the strength but quickly the satin texture covers the palate to give a viscous, round mouthfeel. Oak oak power and poise gives a hint of dryness but also waves of coconut, turkish delight, soft caramel, and spiced orange. The layers of oak that come through softly melt into one another, each sip brings a new level of discovery within this most complex of assemblages. While on the palate there appears less complexity than on the nose, an important balance, texture and defined style serves to highlight the aromatic quality of this whisky.
Finish: It seems as if it goes on forever, the incredible viscous texture of this whisky extends the finish and it lingers on the palate. Roasted nuts, then tropical fruits, pineapple and butterscotch give a sweetness that is sure to be remembered. Mood: As ever the mystery of its creation serves to intrigue. Black Art 7.1 gives a moment to reflect on the past and to welcome the possiblities of the future.
&nbsp
Black Art 7.1 - 25 Y.O. 48.4% $450 Very, very limited
&nbsp
Tomatin 30 Y.O.
Last of a Great Deal
&nbsp
We hope that patience is a virtue, because we waited a long time for this one. In these uncertain times we have just the thing to put a little balance on this situation, a Thirty Y.O. Highland that was matured in a combination of ex- bourbon casks and traditional oak casks at a great price.
The Tomatin 30-Year-Old delivers fresh aromas of soft fruits, golden honey and smooth white chocolate. On the palate, it's a fusion of tropical fruits and creamy buttered vanilla mingle in an explosion of sensational mixed spices

This single malt hits your palate with a full mouthfeel and your taste buds will be doing a dance. Balanced and in great harmony, its grace and elegance justify its price.
It comes in its own wooden presentation case and leatherette carry pouch. That only enhances as a special gift that you could give to your father or yourself.
Crazy times make for crazy prices We got a great deal on this Jim Murray recommended gem. Only 600 bottles came into the country. Just a few bottles are left.
This is great value, take a look at the price of 30 Y.O. single malts.
&nbsp
Tomatin 30 year old Batch 1 46 ABV
Reg:$599.99 - Sale price $324.99 ends 6/30/20
&nbsp
Delivery Free in Greater Boston
We can ship via Fedex anywhere In Massachusetts
Sorry other 49, we don't ship out of state
&nbsp
- Joe Howell
&nbsp
Order by phone at 617.367.8605, or reserve here: order@federalwine.com
&nbsp
&nbsp