Please note that the browser you are using is either outdated or not supported by this website. For a better browsing experience, try one of the following:
New Chablis from Thomas Pico's Domaine Pattes Loup
2017 Chablis Vent d'Ange + 2015 Chablis 1er Cru Butteaux
September 13, 2019
&nbsp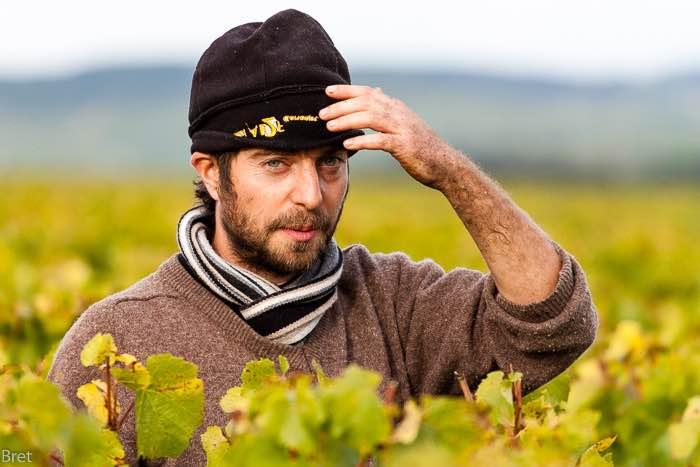 &nbsp
His wines shine with a singular brilliance – Revue du Vin de France
Undeniably delicious, indeed thrilling, in their alliance of texture and saline nuance - Wine Advocate
&nbsp
We have just been offered a small allocation of two wines from Domaine Pattes Loup – the name means wolf's paws, one of the of the most exciting newer estates in Chablis
Vigneron Thomas Pico, still in his 30s, has become respected as one Chablis' most innovative and exciting producers. He inherited 2.4 hectares of vines from his family's estate in 2004. Against the wishes of his father, he immediately began a program of strict yield control and a risk-filled conversion to organic and biodynamic viticulture. Over time he has grown the estate to 15 ha, all carefully and organically farmed.
Most of Pico's vines are selection massale planted by his grandfather rin four premier crus on on the hillsides near the two highest altitude villages within Chablis
Pico is committed to hand-harvesting, and discarding imperfect berries. He ferments all wines using indigenous yeasts, with at least 16 months on the lees, even longer on certain cuvees he labels Mise Tardive, Late Bottled. Wines are neither fined nor filtered.
These painstaking, expensive methods make Pico's wines briney Chablis, but more than that vital with a textured density and power that can come from dedicated work in the vineyards and transparent winemaking.
His AC 2017Chablis Vent d'Ange – Angel's Breeze - from 55+ year old vines is fermented in about 30-40% in concrete egg-shaped fermenters with the balance in stainless steel. In a warmer vintage it has gotten ecstatic reviews
Wine Advocate- "wafts from the glass with aromas of fresh apple, white flowers and marzipan, followed by a medium to full-bodied, broad and satiny palate that's racy but enveloping, with superb cut and definition despite its comparatively broad shoulders and textural profile."
$46
Special 6 bottles $249, (41.50)
Case of 12 - $467.88, (38.99)
&nbsp
The 2015 Chablis 1er Cru Butteaux Mise Tardive, from a lieu dit in Montmains, is from hillside vineyards between 30 and 55 years old, and is raised in older oak. It has garnered superlative admiratione.
Wine Advocate"has realized all the promise it displayed during its lengthy élevage. Unfurling in the glass with aromas of pear, wheat toast, fresh pastry, wet stones, confit citrus and a light touch of reduction, it's full-bodied, satiny and enveloping, with a deep, multidimensional core, racy acids and an immensely long finish. This is a singular wine that ranks as one of Thomas Pico's finest achievements to date."
For the Revue du Vin de France it was a Coup de Coeur – Love at First Sight:
"Combining richness and tension, Butteaux shows itself full of density and length, with a striking maturity and a profound, harmonious breadth."
Very limited - we may have to allocate - $75 Net
&nbsp
Wines arrive Tuesday
&nbsp
Order by phone at 617.367.8605, or reserve here: order@federalwine.com
&nbsp
- Len Rothenberg
&nbsp