Please note that the browser you are using is either outdated or not supported by this website. For a better browsing experience, try one of the following:
Champagne Cazé Thibaut
Character and Finesse through Pinot Meunier
November 7, 2022
&nbsp
Free Delivery - see below
&nbsp
"Each of our plots expresses its soil. We must understand its individuality to adapt to its needs. So our intent is to transmit a specific emotion, reflecting the character of our terroirs".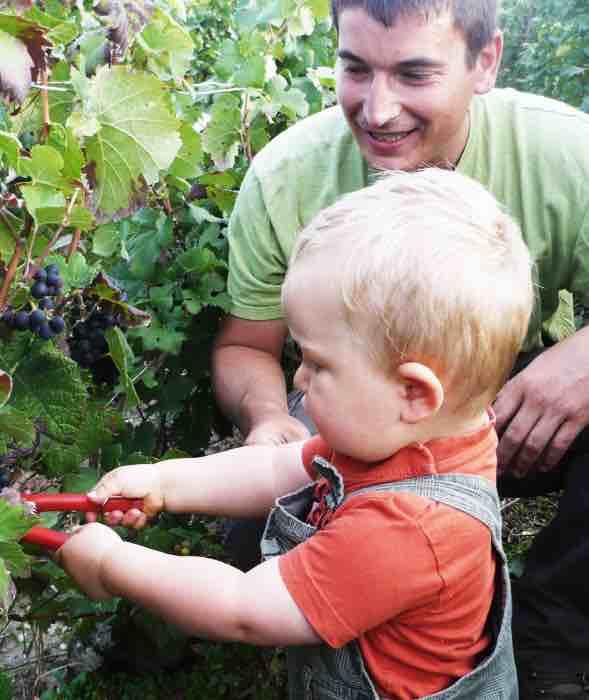 Gen XI starts early
&nbsp
What Makes Them Special: Character, Focus, and Intensity based on Pinot Meunier
&nbsp
Caze' Thibaut (kazay tebow) was one of the high points of an importer's tasting this fall. It stood out from many others in the tasting in that its two cuvees shown were all or strongly Pinot Meunier grape, the third grape of champagne.
Pinot Meunier is not everybody's cup of tea. It most definitely is mine.
Tea is an appropriate mirror for Meunier because both beverages offer structure and edge, which some call cut. Pinot Meunier champagnes have more character, and the grape adds finesse and edge when blended with Chardonnay and/or pinot Noir.
Meunier champagnes have a lot of character. Those who like a dry gin martini could drink them as an aperitif. For me, they want food and partner red meats and fish the same way as red wine with edge or highly structured white. One nicely was excellent company for very good sushi recently.
Fabien Cazé is a tenth-generation vigneron in Champagne's Marne valley whose family has made their own wine since 1953. Starting in 2013, Fabien took over some of his family's vines and started his own project—Cazé-Thibaut he is meticulous in the 2.6 ha he works, vineyards which have been certified organic since 2018. Fabien is a member, along with Pascal Agrapart, Vincent Laval, the Bereche brothers, and Aurelien Laherte, of Terre et Vins, a group of Champenois growers who share a passion for authentic, subtle, and terroir-focused champagne.
His wines are made as naturally as possible using natural yeasts for spontaneous fermentation. They are on the lees and are aged in barrel for several months before bottling unfined and unfiltered.
His Naturellement showcases the character of pure Pinot Meunier from vineyards in Chatillon sur Marne. With the base year of 2019, it spent two years on the less and has had almost a year in bottle since it was disgorged last December. The fruit is so rich that Fabien judged it needed no dosage. It is round but bone-dry.
Les Leriens is a single vineyard on an east-facing slope on the north side of the Marne on a thin layer of limestone and clay over chalk. This edition, with the base year of 2017 wine spent four years on its lees after bottling and has only a minimal dosage
&nbsp
Champagne "Naturellement" Blanc de Noirs Brut Nature (2019)(; Organic) Aroma: Dusty dense, very yeasty clean, firm; Mouth: clean lifted, bright, slightly astringent, tight acid, clean herbal, refined acid, a wine of finesse, later rich with crabapple notes, bright acid; Excellent $53; Case, $45
Champagne "Les Leriens" Extra Brut (2017);(Organic) Aroma: Heady dense, firm, clean, very intense; Mouth: Bright, intense, very concentrated and forward, vibrant and long; Excellent $78; Case, $66
&nbsp
Mix any combination of six or more at their case prices
In stock
Len Rothenberg
&nbsp
&nbsp
- Len Rothenberg
&nbsp
---
&nbsp
FREE DELIVERY!
downtown on orders more than $75;
in Greater Boston on orders more than $199
&nbsp