Please note that the browser you are using is either outdated or not supported by this website. For a better browsing experience, try one of the following:
Burgundy Comes to Champagne
Lejeune Dirvang - Clos des Fourches Premier Cru Natur, 2015 Robert Lejeune Pinot Noir Grand Cru Extra Brut + 2014 Robert Lejeune Chardonnay Premier Cru Extra Brut
October 17, 2022
&nbsp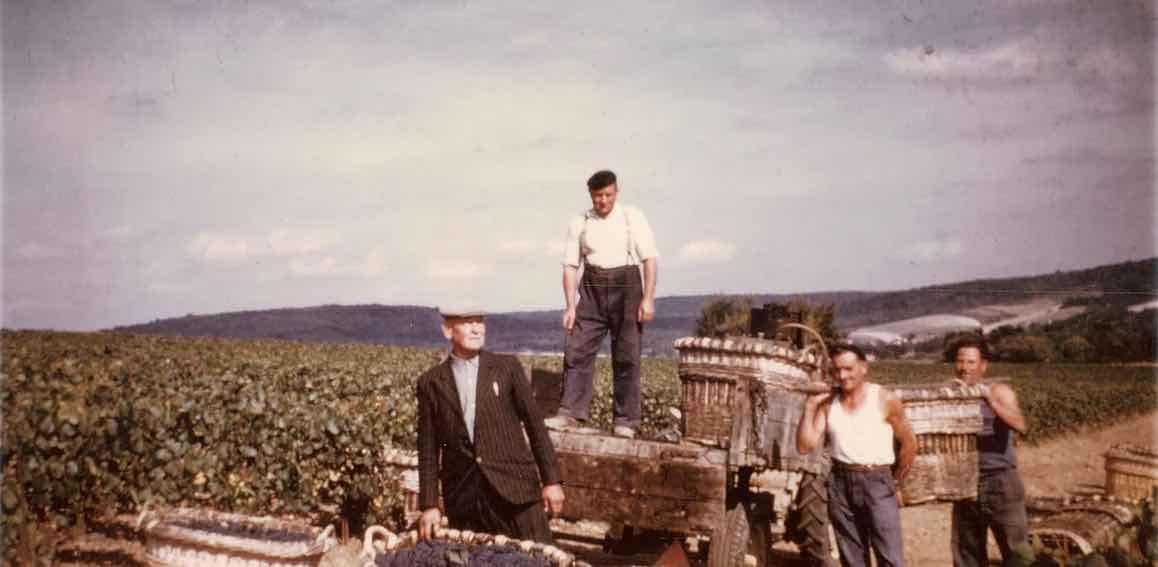 'The recipe is simple: first make a great wine, then add bubbles"
Robert Lejeune chooses to label two of his extraordinary champagne cuvees, Pinot Noir and Chardonnay, instead of the more usual Blanc de Noirs and Blanc de Blancs. That tells much of where he is coming from and where he aims to go.
Although from a family which has grown grapes in champagne since the seventeenth century, he went to Burgundy's prestigious University of Dijon to learn winemaking and elected to remain there to run a small domain near Mercurey. For a while, he and his wife shuttled between Burgundy and Champagne, but in 2014, with the birth of his daughter and his father's retirement, they returned home.
They brought something of Burgundy with them, technique certainly, but more importantly, a craft and sensibility that sought to emphasize the expression of place and plot above all. To that end, they began a years-long study of the strengths and weaknesses of each plot in their 9 1/2 acre domain.
They make wines that synthesize champagne and Burgundy. All employ native yeasts and preserve preserved to give the wines life and age. All are as natural as possible; unfined, unfiltered, and not chilled to precipitate deposits. All are at least Extra Brut, needing little sugar to mask flaws.
They celebrate purity and are layered and subtly complex in aroma and palate, They will appeal to those who like the champagnes of Cedric Bouchard or Marie Courtin, but Lejeune's are more nuanced and delicate.
The Lejeune-Dirvang Clos des Fourches Premier Cru Natur 2ème edition comes from a south-facing hillside vineyard of the Montagne de Reims, named from the gibbets it bore in the Middle Ages. More Pinot Noir than Chardonnay, it needed no dosage to achieve impeccable balance. The wine carries its chalk well, is full and long in the mouth, and develops well in the glass, providing much more pleasure than the vineyard's earlier visitors had there. It goes well with seafood and many cheeses.
Aroma: Heady, very dense, full, plummy, fresh, and pretty; Mouth: Dense, juicy, and fleshy, very Burgundian ripe fruit, counterbalanced by ample chalk; very, very long; Excellent 52, six or more 43
Adding his name, Robert Lejeune makes an extraordinary and daring pinot and Chardonnay. Both are lighter in bubbles than most, which does much to bring grape and place to the fore.
Robert Lejeune Pinot Noir 2015 Grand Cru Extra Brut comes from two tiny plots in Bouzy, a third of an acre planted in 1966 and a quarter acre in 1999. It is lithe more than heavy with good intensity, poised with subtle mineral on the finish.
Color: light gold; Aroma: full, light clean, rich; Mouth: fine mousse, delicately pinot, elegant well-integrated acidity, lively bright full in the mouth lingering ripe acids and a hint of tannins on long, very pinot finish; Excellent $55; six or more $47
2014 Robert Lejeune Chardonnay Premier Cru Extra Brut comes from a small plot within the Clos des Fourches. It emphasizes the fine and airy side of Chardonnay while retaining the characteristics of power and fruitiness of wines from the southern slope of the Montagne de Reims. Lejeune feels that it evokes Meursault. In its roundness and purity, he is not far off.
Aroma: Fresh fullish, very fat, fragrant, heady, and full; Mouth: Clean dusty, nicely firm, very ample, bright, lighter bubbles, elegant; Excellent $68; six or more $58
&nbsp
You can assort any six or more for the best price
Fine things are made in small amounts,
There are five cases of Pinot Noir, three of Chardonnay
In stock
&nbsp
Order by phone at 617.367.8605, or reserve here: order@federalwine.com
&nbsp
- Len Rothenberg
&nbsp
---
&nbsp
FREE DELIVERY!
downtown on orders more than $75;
in Greater Boston on orders more than $199
&nbsp