Please note that the browser you are using is either outdated or not supported by this website. For a better browsing experience, try one of the following:
This Week's Tasting
Affordable Delicious Burgundy
July 14, 2021
Burgundy has become more prized, more desired, and more expensive. Three Reds, Three Whites - Our Picks for Best Taste & Value.
&nbsp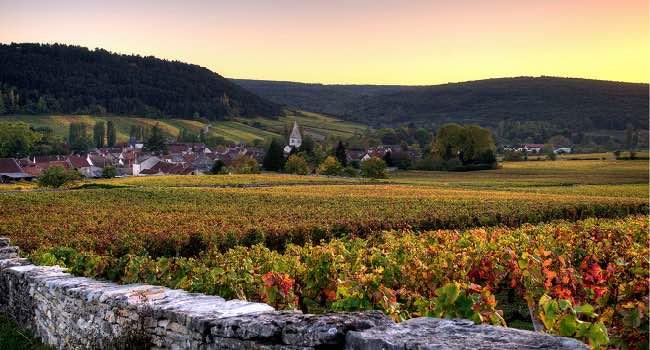 True or False? Some of the finest reds and whites in the world come from Burgundy.
A growing number of people are answering True. However, Burgundy is small, and while demand goes up, the past few harvests, while very fine (thank you global warming), have been smaller than average. That means higher prices.
Aside from terroir, the individuality that soil and site give to wine, what makes burgundy unique is a vibrancy, a tension between its elements of fruit, acid, alcohol, and sometimes wood which has been hard to match in other parts of the world. Finding quality burgundy at a reasonable price has become a more difficult task.
So in observance of Bastille Day and Bargain Day alike, we offer six farmer-bottled wines that have that special quality at a price that won't break the bank.
2019 Marc Morey Bourgogne Aligoté
The Aligote grape used to be of such ill repute that the mayor of Dijon became famous for giving his name to the drink that added sweet cassis to make the wine palatable. Times have changed. Growers can now make it satisfyingly rich and creamy with a slight herbal or guava note. Marc Morey's 2019 is a perfect example.
Aroma: heady & creamy relatively dense pretty, dense & heady; Mouth: clean relatively rich nicely tactile, a little wood, well tight sweet wood light clean long; Very Good Plus 21.99; Mixed Case, 19.79; Case, 18.99
2018 Gueguen Chablis Cuvee 1975
If you missed Céline & Frédéric Gueguen's well-priced 2020 Chablis, we have something even better. In 2018 they made a reserve wine from a parcel planted in the year of their birth. These 45 - year -old vines are made for a richer, more florally intense, and expressive wine at a still reasonable price.
Aroma: heady rich & spicy, attractive, liltingly floral; Mouth: light lemony bright, sweet acid fleshy & forward, long, bright, good substance spicy forward, finely drawn; Very Good Plus 25.99; Case, 21.99
2020 Manciat-Poncet Macon Charnay Les Chenes
A perennial favorite from this fine producer, this wine is fermented and aged 100% in stainless steel tanks to preserve all of Macon's zesty fruit and mineral qualities. Its chardonnay fruit comes from the Manciats' middle-aged vineyards in and around the village of Charnay. 100% hand-harvested grapes (a rarity in the region) and attention to detail at every level make this one of the purest, most satisfying white burgundies in its class. The 2020 is very rich with some tropical fruit notes.
Aroma: heady mineral rather deep intense, firm, mineral, slatey, heady dense; Mouth: fresh, grapey dry, dense grapey, rather full, nice balance, firm, apple pear, springy finish, rich deep; Very Good Plus 19.99; Case, 16.99
2018 Raquillet Mercurey Chamirey
Over several vintages, Francois Racquillet has delivered reliable, superb values in Mercurey. Lovers of good burgundy at a reasonable price will have good reason to stop here. His wines are always balanced, consistent, and harmonious." Revue du Vin de France
We have a little of his wonderful 2018 left and will show what promises to be a very fine 2019
Color: medium-dark; Aroma: nicely elegant, rather fine, herbal, firm with subtle wood notes; Mouth: clean finely delineated, elegant precise, firm, not too fleshy, very pretty nice now, it still has a way to go, very pretty; Very Good Plus 32; Mixed Case, 28.8; Case, 25.99
2019 Perrachon Julienas Vignes des Centenaires Cuvee Special
OK, it's gamay, not pinot noir, but the best growers in Julienas and other communes of Beaujolais make wine that is every bit Burgundian in craft and style, especially this one from 100-year old vines. We sold out our first shipment of this extraordinarily rich and deep wine, which some people reordered. More is in. We certainly recommend it if you haven't tried it, and if you have and need more, it's here. Deep dark fruit, wonderful intensity, and the ability to age.
Color: Black center ruby edge; Aroma: heady, finely delineated acid over a richly plummy center, nice interplay between granite and fruit; Mouth: clean acid granite drive, fine direct edge, ripe black plum crisp & stony finish, beautifully balanced, long; Very Good - Excellent 27.99; Mixed Case, 25.19; Case, 23.99
2019 Domaine Parize Givry Clos des Grands Vignes
Parize, a meticulous grower, hit it out of the park with this wine. It is the poster wine that shows how great the 2019 burgundy vintage is. Intense, concentrated, even a bit sinewy, spicy, and vibrant, it's a serious, satisfying wine. The little we had earlier went to people who requested our best, reasonably priced red burgundy. A second shipment of this wine has given us enough to put in this email. It won't last long. Do not miss it.
Color: very dark black; Aroma: heady very dense, plummy yet bright, heady, wild raspberry, firm, Mouth: very rich, very dense, thick deep plum fruit, very rich over-stuffed, very satisfying and long; Very Good - Excellent 34; Case, 28.99
Bastille Day Burgundy Case: Special, two each of the above wines - $279
Instore only Bastille Day Burgundy Pack: Special, one each - $149
Or
Assort any 6-11 bottles for 10% off
12 or more for the case price discount
In stock
Order by phone at 617.367.8605, or reserve here: order@federalwine.com
&nbsp
Please pass this on to any friends who are wine enthusiasts!
&nbsp
- Len Rothenberg
---
&nbsp
FREE DELIVERY!
downtown on orders more than $75;
in Greater Boston on orders more than $175
&nbsp