Please note that the browser you are using is either outdated or not supported by this website. For a better browsing experience, try one of the following:
2020 Tenuta della Terre Nere Contrada Etna Rosso
LIMITED Prearrival Offer
June 16, 2022
&nbsp
Free Delivery - see below
&nbsp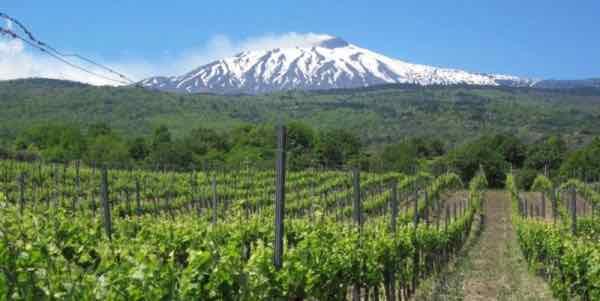 &nbsp
The new vintage of Marco de Grazia's Tenuta Delle Tere Nere Etna Rosso wines will be arriving next month.
These are made with high-elevation old vines on volcanic soil from Mount Etna's signature Nerello Mascalese grape. They are all fantastic wines that combine the character of Barolo and Burgundy and are bottled and labeled as Contrada sub-zones. They are all similar. They are all distinct.
The reputation of these wines has soared, so they have become tightly allocated. We will do our best for all of you to fill your orders.
&nbsp
2020 Tenuta Delle Terre Nere
&nbsp
Premier Cru
Guardiola is the highest elevation contrada with volcanic sand and basaltic pebbles. The wine has a powerful character and focused intensity.
Santo Spirito is next to but completely different from the craggy Guardiola contrada. The soil is deep rich volcanic ash. The wine is sophisticated and tender, luscious and sensual.
Feudo di Mezzo is a large parcel of homogenous volcanic soil. The wine has a dusky character with cedary, spicy, suave tannins and silky structure.
Moganazzi is a small parcel with beautiful biodiversity. The wine has a luminous character and a brilliant tightly woven structure.
&nbsp
San Lorenzo is one of two contrada that sit on ground from an ancient eruption 60,000 years ago. The wine has rich soft tannins and is velvety and voluptuous.
Calderara Sottana is the other contrada on the ellitico eruption. Floral and spicy, leathery and aromatic with a creamy texture.
Bocca D'Orzo, neighboring San Lorenzo, has long been considered one of the finest contrada but was almost entirely buried by lava in a 1981 eruption. Marco discovered a small island of vines that escaped the lava and in 2017 succeeded in buying this monopole vineyard. He added Dagala, Sicilian dialect for "island." to the cru name..
One single vineyard inside Calderara Sottana conatines 100% 130 year-old Prepylloxera vines, Marco bottles this wine as Terre Nere Prephylloxera la Vigna di Don Peppino. It is simply incredible. Monumental with heavenly elegance.
&nbsp
2020 Tenuta Delle Terre Nere
Subzone Premier Cru
2020 Etna Rosso Feudo di Mezzo:
Open generous velvety enveloping bouquet
49/bottle
2020 Etna Rosso Moganazzi:
Dense texture luminous character
49/bottle
2020 Etna Rosso Santo Spirito:
Pure, balanced, rich, and enveloping
49/bottle
2020 Etna Rosso Guardiola:
Great power and originality. Rigorous minerality
49/bottle
Single Vineyard Grand Cru
2020 Etna Rosso San Lorenzo:
Vigor and generosity in a sumptuous tension. Purebred.
60/bottle Net
2020 Etna Rosso Calderara Sottana:
Widest panorama of flavors, aromas and nuances. Complete
63/bottle Net
2020 Etna Rosso Dagala di Bocca D'Orzo:
Superlative wine always textured and layered
99/bottle Net
2020 Etna Rosso Prephylloxera Vigna di Don Peppino
: Supernatural finesse graceful refinement Old vine texture
125/bottle net
&nbsp
Contrada prices discount for quantity:
10% discount on any combination of six bottles.
15% discount on any assortment of twelve bottles
Grand Crus count toward quantities but do not discount themselves
&nbsp
&nbsp
Wine should arrive next month
&nbsp
&nbsp
- Peter Hemenway
&nbsp
---
&nbsp
FREE DELIVERY!
downtown on orders more than $75;
in Greater Boston on orders more than $199
&nbsp