Please note that the browser you are using is either outdated or not supported by this website. For a better browsing experience, try one of the following:
2017 Port
A Vintage Not to be Missed
July 18, 2019
&nbsp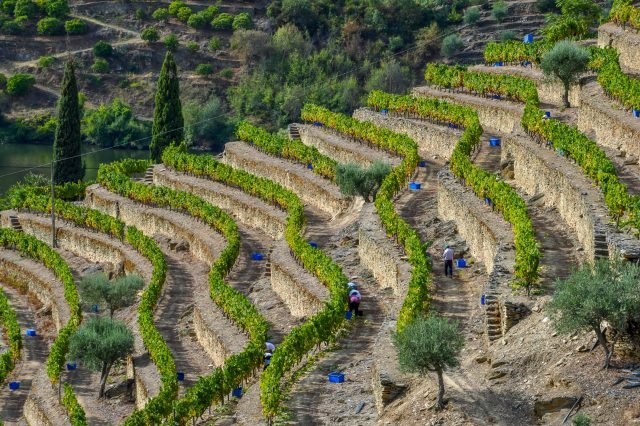 Port is getting better and better., Not only global warming but producers skills. Both producers and press are all excited about the 2017 vintage in the door. It was hot and dry but not so much that the wines have kept a freshness and acidity in addition to their richness. In both style and quantity the vintage is being compared to the legendary 1945 and is one on a par with although different style to the just declared 2016s.
Although I have had the opportunity to taste only only four wines so far, and those but once, my notes, ranging from Outstanding-Superb, are congruent with those made by Richard Mayson in Decanterquoted for all wines below. The Quinta do Vesuvio was perhaps perhaps the lightest and most rigorous of the group. Dow was layered, rich, and opaque; heady and sumptuous, promising much to come.Graham showed pure, and elegant, reluctant to display all it has. Cockburn head and shoulders above previous vintages, an excellent value.
I am convinced by what I have tasted as well as what I have read that this is a vintage not to be missed by port collectors
Prearrival Prices are net per bottle , Represent about a 25% discount from landed price. They are good only through mid-August, subject to prior sale: Some are VERY limited.Most 750 ml wines are packed in wood cases of 6 Arrival at various times this fall.
Graham Stone Terraces
"magnificent colour and an extraordinary nose, lifted and powerfully ripe with glorious overlying floral aromas. It has succulent berry fruit and massive concentration in the mouth - magnificent, the quintessence of the finest Douro fruit. Powerful, muscular tannins stack up to a broad and ripe finish, leaving a mouthwatering, almost Burgundian, freshness that seems to be one of the hallmarks of the best wines in this vintage. Outstanding. Just 6,360 bottles produced. 2035 - 2060 Prearrival $210
Graham
a very deep blue-black colour with an expressive, super-ripe nose of plum, mint and bergamot which springs from the glass. The palate is rich, velvety and voluptuous in typical Graham's style. The initial richness makes the tannins, which show up on the ripe, broad, mouthwatering finish. Wonderful purity and definition. A real wow of a wine! - 2035 – 2060 Prearrival $100
Warre
lovely open floral aromas, so fresh and aromatic, with a touch of green tea leaf. In the mouth it has an underlying dark chocolate concentration with wonderfully pure, sweet plum and wild cherry fruit, backed by fine-grained tannins. It's wonderfully fresh and lithe, with an expansive finish and near-perfect poise.Prearrival $90
Dow
This is opaque and closed in but powerfully ripe with underlying pure berry fruit. It's seemingly quite introverted compared to some of its peers at this stage, but it's still full, rich and opulent on the palate. It also shows the latent power of the vintage, made as it is in a slightly drier style with lovely minty fruit and full, ripe sinewy tannins all the way through the finish. Long and lithe, and very fine. Prearrival $100
Taylor
This has lovely ripe mulberry fruit on the floral nose, also showing lovely concentration. It's dense and fleshy initially on the palate, displaying silky-velvety damson fruit and broad, fine-grained tannins which rise in the mouth and lead to a big peacock's tail of a finish. It's a bold wine with great finesse, already beautifully integrated. - 2035 – 2060 . Prearrival $100
Croft
the best from Croft since the 1960s - and it's well priced too. It's surprisingly demure on the nose with underlying plump, juicy plums and cherries. It's similarly voluptuous on the palate initially - in true Croft style - with a wonderfully ripe, broad tannic core rising in the mouth. It's dense and rather gorgeous all the way through to a fresh, vibrant finish- 2030 – 2060 . Prearrival $79
Cockburn
one of few wines in 2017 showing a touch of warmth on the nose, with opulent, heady floral fruit. The palate is sweet and fleshy initially, with ripe berry fruits and solid, spicy tannins. It's classically structured with lovely concentration and a powerful finish, perhaps not showing the freshness of some other '17s but still very impressive. - 2035 – 2060 . Prearrival $79
Fonseca
Already beautifully integrated, this is showing great purity and poise. It's open and in its first bloom of youth, with lovely aromatic red berry fruit and floral aromas, plus a touch of leafiness. It's soft and fleshy initially, seemingly not as big as its stablemate Taylor's - and not quite so deep in colour - though with dark chocolate concentration and mid-palate firmness. Lovely full, ripe tannins mass in the mouth, well defined, with fresh berry fruit remerging on the broad, expansive finish. - 2035 – 2060 . Prearrival $100
Quinta do Vesuvio
very different from the other Symington estate wines. It's lifted and aromatic on the nose with a touch of green leaf and ginger and a wild, herbal edge. The palate's not especially big, and has lovely freshness all the way through with fine-grained, peppery tannins, showing near-perfect purity and leading to a long, linear finish. Should be approachable early but this will also last the course. - 2030 – 2060" .Prearrival $79
&nbsp
Order by phone at 617.367.8605, or reserve here: order@federalwine.com
&nbsp
- Len Rothenberg
&nbsp