Please note that the browser you are using is either outdated or not supported by this website. For a better browsing experience, try one of the following:
2017 Dievole Chianti Classico
A Magical Place in the Tuscan Hills
September 22, 2020
&nbsp
Free Delivery - see below
&nbsp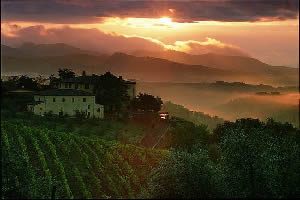 &nbsp
The Dievole Estate is a ridiculously beautiful and magical property in Castelnuovo Berardenga. The first bottling dates back to 1090 when nine Etruscan families put their resources together to create the estate. Today it is owned by the Alejandro Bulgheroni family.
I have a long history with this property. I first visited in 1992. In 1993 I came back, friends with Mario then the owner. He let me help plant a special new vineyard he was very excited about .
These are great wines from a magical place. You can sense this mystical aura every time you taste them. These are also great vintages which these days are not unusual. The land here at Dievole always makes sure that the wines are better than good, no matter the vintage or who makes the wine.
At this point I would say that Dievole is Federal Wine's "house Chianti". The 2017 Dievole Chianti Classico gives an amazing balance of bright red fruit, floral notes and spice. It all speaks of the amazing land where these vines are grown. The wine is strictly traditional with fermentation in concrete vats and aging in large oak. Here we find tremendous interest, value and identity for the price.
&nbsp
2017 Dievole Chianti Classico: Bright ruby. Very floral notes, violet, frame ripe red cherry fruit. Notes of herb and Asian spices in a rich balanced finish. Excellent 19.99/bottle
&nbsp
Special case: Twelve bottles of the above for a special price of $203.88 (16.99/bottle
)
In stock
&nbsp
Order by phone at 617.367.8605, or reserve here: order@federalwine.com
&nbsp
- Peter Hemenway
&nbsp
---
&nbsp
FREE DELIVERY!
downtown on orders more than $75;
in Greater Boston on orders more than $175
&nbsp