Please note that the browser you are using is either outdated or not supported by this website. For a better browsing experience, try one of the following:
2012 Proprieta Sperino Uvaggio
Piedmont's Past & Future
March 15, 2019
&nbsp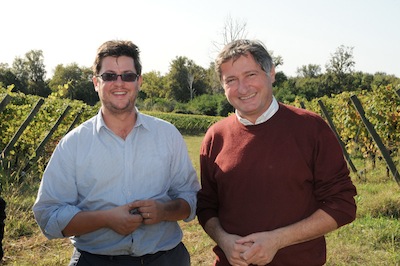 Luca and Paolo Di Marchi
&nbsp
Lessona is a commune in Piedmont, north of Barolo. In the 18thand 19thcenturies, the wine produced here was perhaps the most famous in Italy. Due to the ravages of the World Wars this industry essentially disappeared. It is now coming back. One of the chief producers is Proprieta Sperino. The 2012 Proprieta Sperino Uvaggio is Nebbiolo blended with Croatina and Vespollina. The wine is ridiculously good. We bought the last of the 2012 and can offer for a special price.
Proprita Sperino is owned and run by Paolo and Luca Di Marchi. Paolo is justly famous for his property in Tuscany, Isole e Olena where he has developed a reputation as one of the greatest winemakers in Italy. His Isole e Olena Cepparello was once the Wine Spectator's Wine of the Year.
Paolo's family is originally from Lessona and he decided to work with his son to recreate the family vineyards and winery. This is the result, a great value in Piedmont red with elegance, spice and complexity, that is even greater with our special purchase.
2012 Proprieta Sperino Uvaggio: Bright ruby. A little closed at first, then a dramatic opening towards the finish. Cherry, olive flower, sage, jasmine and thyme with violets and smooth tannin in the complex finish. A nice touch of spice throughout. Excellent Was 37/bottle) Now 29.99/bottle
&nbsp
Special six pack: Six bottles of the above for a special price of $149.94 (24.99/bottle)
In stock, limited quantity
&nbsp
Order by phone at 617.367.8605, or reserve here: order@federalwine.com
&nbsp
- Peter Hemenway
&nbsp