Please note that the browser you are using is either outdated or not supported by this website. For a better browsing experience, try one of the following:
2010 Ezio Cocito Barbaresco Baluchin Riserva
Rare and Amazing Barbaresco
August 2, 2019
&nbsp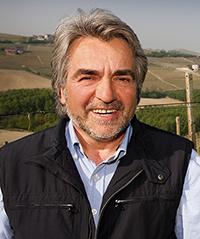 &nbsp
The 2010 Ezio Cocito Barbaresco Riserva is a very rare wine. It is also superb quality. It is drinkable now and will age well for at least 20 more years. It is amazingly affordable. For all of these reasons I think this is the greatest value in Piedmont.
Ezio Cocito is a farmer and he is in the horse business. He also owns Baluchin, a top rate Barbaresco vineyard in Neive. He does not, however, have a winery. He turned to Giorgio Rivetti for help in crafting his small production Barbaresco. Giorgio and Ezio have been longtime friends; they share a passion for wine and a love of horses. Giorgio extended the use of La Spinetta's winery and cellar for the production of the Cocito Barbaresco Baluchin and, in exchange, Ezio offered to help take care of Giorgio's horses. It's a perfect collaboration.
During my visit this we all spent some time in La Spinetta's cellar tasting barrel samples. Over lunch at Giorgio's new restaurant, they told me they sent some cases of the 2010 Ezio Cocito Barbaresco Baluchin Riserva to us. Besides being a fabulous wine, the Cocito Barbareco has a very small production (200 cases total) and does not find its way to many markets.
The wine exhibits classic Nebbiolo flavors and aromas with beautiful structure and is from the most powerful and elegant vintage in recent memory.
&nbsp
Ezio says:
I've always believed that if you can't do something right, you shouldn't do it at all. I decided to focus all of my efforts on Barbaresco. This is also why we produce our wine only in exceptional vintages.
&nbsp
2010 Ezio Cocito Barbaresco Baluchin Riserva: Excellent to Superb 64/bottle
Special six pack: 6 bottles of the above for a special price of $326
Arrives next week.
&nbsp
Order by phone at 617.367.8605, or reserve here: order@federalwine.com
&nbsp
- Peter Hemenway
&nbsp