Please note that the browser you are using is either outdated or not supported by this website. For a better browsing experience, try one of the following:
Premium Jack Daniels Premium Event: Bottle Engraving and Raffle
for an Official Autographed Bruins Jersey. Thursday, June 6, 2019, 4:30 - 7pm. Read on...
June 6, 2019
&nbsp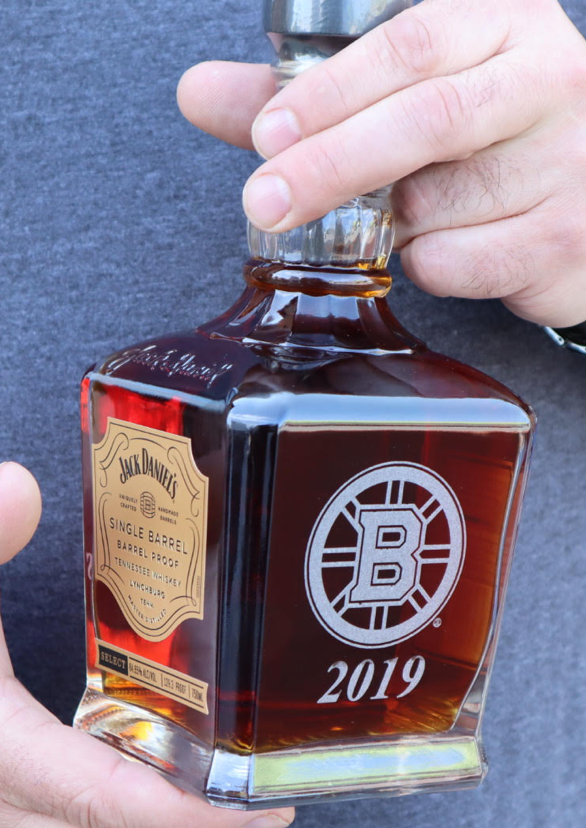 Jack Daniels sponsors the Bruins.  Their folks will be in the store
with Special Commemorative bottles of
their Premium Gentleman Jack and Single Barrel bottlings.
&nbsp
These bottles will come with the Bruins Insignia already engraved on one side.
You can add your own personalized message on the other:
For the World's Best Dad
Happy Birthday or Anniversary
Best Year Ever
Or whatever else you want - up to 12 words
&nbsp
EACH BOTTLE purchased earns one ticket
For a Raffle for
AN OFFICIAL BRUINS JERSEY
AUTOGRAPHED BY ALL THE PLAYERS
The Jersey will be raffled off at the end of the tasting.
&nbsp
If you come to the tasting:
You can go home with your bottle(s) (and maybe even the shirt).
If you can't make it to the tasting.
You can still reserve a bottle and enter the drawing. Just call or email us with your order
(please contact us with payment information).
&nbsp
Want this for a Gift?
We can deliver anywhere in Massachusetts!
To be sampled on Thursday
Gentleman Jack $40.99
Jack Single Barrel $56.99
The Reserve Bottlings below can also be ordered with engraved logo and message*
Jack Single Barrel Cask Strength $66.99
Jack Daniels Single Barrel Rye $56.99
&nbsp
These whiskies are by pre-order only. They will earn a raffle ticket, but might not be available until sometime after the tasting.
&nbsp
Only orders placed prior to Thursday at 7:00 will qualify for raffle tickets
&nbsp
&nbsp
Please pass this on to any friends who are Scotch or Bruins enthusiasts!
&nbsp
- Joe Howell
&nbsp
&nbsp