Please note that the browser you are using is either outdated or not supported by this website. For a better browsing experience, try one of the following:
2021 Fratelli Alssandria Pelaverga di Verduno Speziale
Take a Vacation
July 29, 2022
&nbsp
Free Delivery - see below
&nbsp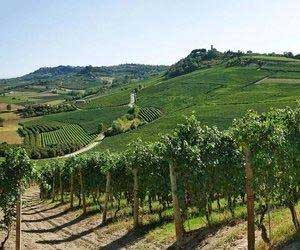 &nbsp
Here's a tasty Piedmont vacation wine. 2021 Fratelli Alssandria Pelaverga di Verduno Speziale is a wine from one of the first and oldest communes to produce Barolo. It comes from the rare and beguiling Pelaverga grape. The word spice (Speziale) is actually in the name.
Fratelli Alessandria winery dates back to 1830. Family members Gian Battista, Flavia, Alessandro and Vittore run the estate today. They are in the commune of Verduno, the highest elevation town in Barolo.
I found out about them from the highest possible recommendation. On my first visit to Piedmont in 1985, Bartolo Mascarello, one of the most respected producers in Barolo, told me I should visit the Alessandias. I was glad I did.
Among other things, Gian Battista showed me his Verduno project, based on a Pelaverga clone found only in that town. Pelaverga Piccolo is so unique that some call it Verduna Piccolo.
They started bottling this wine in 1996. It shows evocative aromas and a distinctive mid-weight palate. Because of its friendly complexity, we also find great versatility with food.
2021 Fratelli Alssandria Pelaverga di Verduno Speziale: Bright light ruby. Aromas and flavors showing cracked peppercorn, rose hips, rhubarb, orange zest with a velvety mouthfeel and long finish. Very different with great balance. Sideways and Excellent 25.99/btl
&nbsp
Special case: Twelve bottles of the above for a special price of $263.88 (21.99)
arrives next week
&nbsp
&nbsp
- Peter Hemenway
&nbsp
---
&nbsp
FREE DELIVERY!
downtown on orders more than $75;
in Greater Boston on orders more than $199
&nbsp