Please note that the browser you are using is either outdated or not supported by this website. For a better browsing experience, try one of the following:
2017 Tenuta Delle Terre Nere
Premier and Grand Cru Etna
May 28, 2019
&nbsp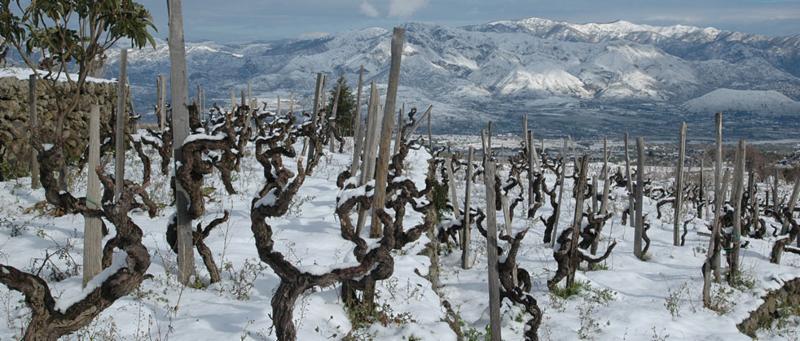 &nbsp
Many of you are quite familiar with the amazing Etna wines from Tenuta Delle Terre Nere. Marc de Grazia began this gig back in 2002 and the winery was complete in 2004. Besides leading a revival of the wines of Etna, Marc from the beginning bought only the best vineyards. His idea was that each individual area should be vinified and bottled with the name of the individual cru, or Contrada. Calderara Sottano, Guardiola, Santo Spirito and Feudo di Mezzo appeared first. Then came Prephylloxera Vigna di Don Peppino from a piece of Calderara where the vines are 130 years old. He is now bottlingMoganazzi and San Lorenzo as well.
Marc makes the point that both Calderara and San Lorenzo are Grand Cru vineyards because they are the only two with soil from a specific ancient lava flow. This includes the Prephylloxera site which we could call a super Grand Cru. The others Marco describes as Premier Cru.
To review, these wines are based on Nerello Mascalese and resemble a cross between Grand Cru Burgundy and single vineyard Barolo. They are beautiful when young and age extremely well.
&nbsp
Very special indeed
Wines will arrive mid June
Very Limited Availability
&nbsp
2017 Santo Spirito: Just like "Swan Lake" by Tchaikovsky Excellent 48/bottle 245/six pack (41/bottle)
2017 Feudo di Mezzo: Imagine the "Pavanne: by Maurice Ravel Excellent 48/bottle 245/six pack
2017 Guardiola: Lots going on, the "Goldberg Variations" by J S Bach Excellent 48/bottle 245/six pack
2017 Moganazzi: Surprising like "Rhapsody in Blue" by Gershwin Excellent 48/bottle 245/six pack
2017 San Lorenzo: Let's say "The Planets" by Gustav Holtz Outstanding 62/bottle 316/six pack (53/bottle)
2017 Calderara Sottano: Complex and complete, "Kind of Blue" by Miles Davis Outstanding 62/bottle 316/six pack
2017 Prephylloxera Vigna di Don Peppino: Beethoven's "Ninth Symphony" Superb 99/bottle 505/six pack (84/bottle)
&nbsp
MAGNUMS:
2017 Santo Spirito: 85/bottle NET
2017 Guardiola: 85/bottle NET
2017 Calderara Sottano: 106/bottle NET
&nbsp
Order by phone at 617.367.8605, or reserve here: order@federalwine.com
&nbsp
- Peter Hemenway
&nbsp