Please note that the browser you are using is either outdated or not supported by this website. For a better browsing experience, try one of the following:
Donald Patz Steps Up His Game
2017 Maritana Chardonnay La Rivière & 2017 Maritana Pinot Noir La Russe
March 1, 2019
&nbsp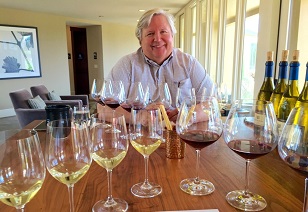 After three decades at Patz & Hall, Donald Patz has found his calling. He was in town a couple of weeks ago to show and talk about the new wines he calls Maritana, made with the aim to make the best small lot Pinots and Chardonnays he could in Russian River Valley, the area he loves the best for those grapes.
Patz and Hall wines won a following for their the joyous and sensual expressions of North Coast Pinots and Chardonnays. The first release Maritana wines Donald showed are an evolution, showing the balance and finesse that minute attention to detail can evoke in these grapes.They display a very fine and defined tension between minerality, ripe fruit, fine acids, and delicate, decorous use of wood, No quality is dominant, each in fine balance with the others.
If Patz & hall wines are for Pinot and Chardonnay lovers, Maritana wines will excite devotees of those grapes. Donald talked about wanting to focus on drawing out the aromatics of the Pinot grape. He has certainly succeeded. After tasting his wines, I felt he had done more than that.
The chardonnays we tasted with him lacked nothing in Chardonnay's expressive apple, pear and light tropical notes but had a mineral drive that suggested Chablis. The Pinot Noir had extraordinarily seductive red and black berry aromatics that complemented without overwhelming a fine acid structure.
They are not Burgundian, a term too often misused for West Coast wines, but they do have a finesse and complexity that I have seldom seen in California Pinot and Chardonnays. They are young wines, so I have been conservative in my evaluation, They well merit more, with a bit of age.
&nbsp
2017 Maritana Chardonnay la Riviere; Aroma: very clean a touch f flint; Mouth: smooth rather dense fleshy /neutral, , clean rounded , nice flesh, restrained dry; Very Good - Excellent 62; Mixed Case, 55.8; Case, 52.7
2017 Maritana Pinot Noir La Russe; Aroma: rather sweet, very dense, some plummy notes with a lifted finish; Mouth: sweet lifted, fleshy texture, bright acid nicely balanced with fat texture, fine underlay of mineral acid; Excellent 62; Mixed Case, 55.8; Case, 52.70
&nbsp
Special mixed case, 6 bottles of each $625
Special half case 3 bottles of each $329
&nbsp
Wines arrive Tuesday
&nbsp
Order by phone at 617.367.8605, or reserve here: order@federalwine.com
&nbsp
- Len Rothenberg
&nbsp