Please note that the browser you are using is either outdated or not supported by this website. For a better browsing experience, try one of the following:
This Week's Tasting
Chenin Blanc, The Unsung Great White Grape
July 19, 2017
The Chenin Blanc grape is finally coming into its own. It can be as complex and soil-expressive as chardonnay and as racy and long-lived as riesling, but without that grape's powerful acidity.
&nbsp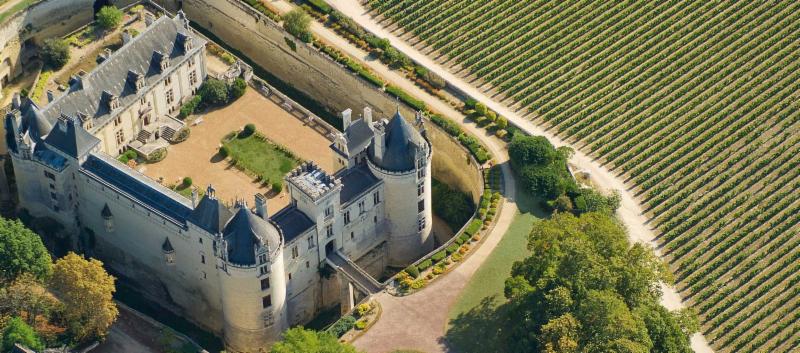 Chateau Brézé
The best dry through sweet versions come from France's Loire Valley. It is fast becoming South Africa's signature grape, quasi-indigenous as it was first planted there four hundred years ago.
Its weight makes it a great for all seasons, its fruit makes it wonderful to drink in summer with a wide variety of dishes. Six examples tonight, mostly Loire estates, one from one of our favorite South African producers.
We'll start with the drier wines. Bruwer Raats is passionate about Chenin Blanc and makes some of the finest drier style in South Africa. His Old Vine Chenin Blanc comes from 40-year-old vines on sandstone and schist in Stellenbosch. Crisp and creamy at the same time, it goes with almost any fine chicken or fish dish and will mellow and become richer with a few years of age.
I know very little about Jaulin-Plaisantin, save that is a partnership of two young winemakers, but I do know that I liked their 2015 La Closerie a lot. It comes from a single vineyard on chalky soils in Montlouis opposite Vouvray south of the river. The wine impressed me with its definition and crisp acid drive. More for seafood than white meats.
The 11th Century Chateau De Brézé is a Unesco World Heritage site you can visit (stay away from its dungeon) whose owners have wisely conferred the control of its vineyards to the father and son team of Yves and Arnaud Lambert. They farm its various parcels organically. There are several parcels. My favorite was the Clos David, a high, cool vineyard on sandy loam and limestone. The wine has excellent concentration and shows its minerality under a generous layer of fruit. Drink now or age.
Vouvray is the best known of the Loire Chenins. We'll have three, all different styles for different uses and different pocketbooks.
The 2015 Domaine Le Peu de la Moriette Vouvray (Pichot) is the friendly juicy richly fruited, slightly off-dry style that that most people will associate with Vouvray, It outclasses its competitors, Round and lively, it is a delicious summer quaff with food or by itself.
The 2015 Francois Pinon Vouvray Cuvee Les Trois Argiles  jumped out of the pack at a large Loire tasting. It is tendre, a French term that means a subliminal sweetness that makes a wine rich rather than sugary. This wine impressed for a succulence that is complemented and reined in by a defining food friendly acidity.             Most Vouvray is grown on chalky soils; 2015 Vigneau-Chevreau Vouvray Clos de Rougemont comes from flint in an 700 year-old formerly monastic vineyard in the city of Tours. This gives it a more assertive minerality and less acidity. It has a bit of sugar, no more than a brut champagne, and feels equally dry. A complex wine for complex dishes. 
&nbsp
White
2013 Raats Chenin Blanc Old Vines; Aroma: Lightly floral very clean, peach; Mouth: Nice clean acid, Flinty and fleshy, thick not heavy, firm acid; Very Good - Excellent26.99; Mixed Case, 24.29; Case, 22.94
2015 Jaulin-Plaisantin Montlouis La Closerie - Organic; Mouth: lightish, rounded good acidity, clean, nicely balanced acid drive, dry, finishes with vigorous very long acidity; Very Good Plus 29.99; Mixed Case, 26.99; Case, 25.49
2014 Ch. de Brézé Saumur Blanc 'Clos David' - Organic; Aroma: Clean fresh mineral; Mouth: Clean tight not tart acid, finely tight mineral, very long finish., nicely concentrated and fleshy; Very Good - Excellent 32; Mixed Case, 28.8; Case, 27.2 
2015 Domaine Pichot Vouvray Le Peu de la Moriette; Aroma: Fresh clean pretty fine acid; Mouth: Juicy nicely fresh pretty forward, very nice character especially for the money; Very Good Plus 17.99; Mixed Case, 16.19; Case, 15.29 
2015 Francois Pinon Vouvray Cuvee Les Trois Argiles; Aroma: Firm, clean dry, herbal,; Mouth: Juicy fresh clean, direct fruity, firm and well structured; Very Good Plus 24.99; Mixed Case, 22.49; Case, 21.24
2015 Vigneau-Chevreau Vouvray Clos de Rougemont- Organic, Biodynamic; Color: light greenish hue; Aroma: light clean firm, rather fresh, lightly herbal strong minerality closed; Mouth: rich rather sweet dense, fleshy some fat, great minerality; Very Good - Excellent 24.99; Mixed Case, 22.49; Case, 21.24 
&nbsp
7-19 Chenin Blanc Case: Special, two each of the above wines - $268
Instore only 7-19 Chenin Blanc Pack: Special, one each of the above wines - $142
&nbsp
Order by phone at 617.367.8605, or reserve here: Order@federalwine.com
- Len Rothenberg
(c) Federal Wine and Spirits Inc. 2017