Please note that the browser you are using is either outdated or not supported by this website. For a better browsing experience, try one of the following:
2017 Raphael Midoir Pouilly Fume
Sancerre's Hidden Neighbor
June 4, 2019
&nbsp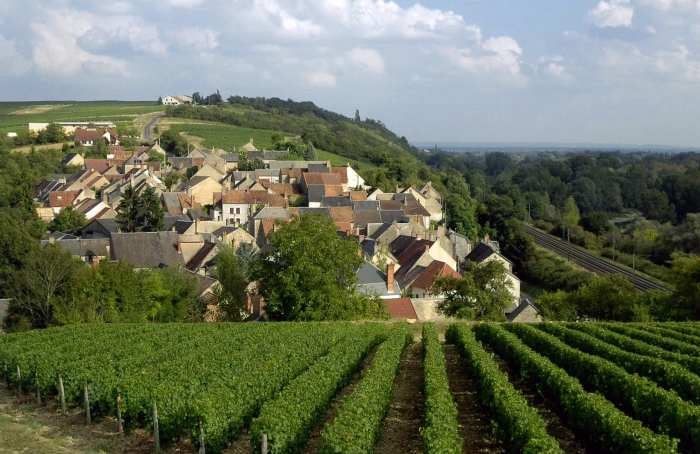 &nbsp
People mix often mix up Pouilly-FUME with the more famous Chardonnay based Pouilly-FUISSE from Burgundy.
Pouilly Fume (Pooh-we Foo-may') comes from Pouilly sur Loire, just across the river from Sancerre. Like Sancerre it is all Sauvignon Blanc. A well-made Pouilly can have the same round purity, the same lime and melon clarity that have made Sancerre the darling of the bistro set. While often difficult to tell apart from Sancerre, it has not yet gotten the same cachet.
If there is a difference, the soils in Pouilly have a shade more flint than in Sancerre which means that the average Pouilly Fume has more of a sense of smoke or gunflint than you will find in its neighbor.
Raphael Midoir is an up and coming winemaker in Touraine. His Sauvignon Blancs from vineyards in Chamery have been attracting critical attention in France in the last few years. But his Pouilly Fume has been overlooked. We liked it a lot and had put it on our shelf when we could find no value priced Sancerre we found acceptable.
Then we noticed that it was languishing in the importer's warehouse and made them an offer they did not refuse.
The 2017 Raphael Midoir Pouilly Fume is a pleasure to drink. It is fleshy and mouth-filling, with rounded fruit and no hard edges, the essence of Loire Valley Sauvignon Blanc that show the prized Pouilly Fume-Sancerre character with the subtlest hints of camphor and smoke.
It is great summer wine for seafood or an aperitif, irresistible at our new unbelievably low price, with a character other Sauvignons can't touch.
&nbsp
2017 Rafael Midoir Pouilly Fume; Aroma: soft grapefruit rather bright firm, rather nutty,; Mouth: clean fresh, lifted, lemon grapefruit, very clean, nice intensity, long, low deep notes of smoke and flint on a soft rounded finish; Very Good Plus Was 21.99 NOW 16.99; Mixed Case, 15.29;
&nbsp
Special Case Price 167.88 (13.99)
In stock now
&nbsp
Order by phone at 617.367.8605, or reserve here: order@federalwine.com
&nbsp
- Len Rothenberg
&nbsp