Please note that the browser you are using is either outdated or not supported by this website. For a better browsing experience, try one of the following:
2016 Hamilton-Russell Chardonnay
A Brooding and Dense Follow-up to the Highly Touted 2015
March 10, 2017
&nbsp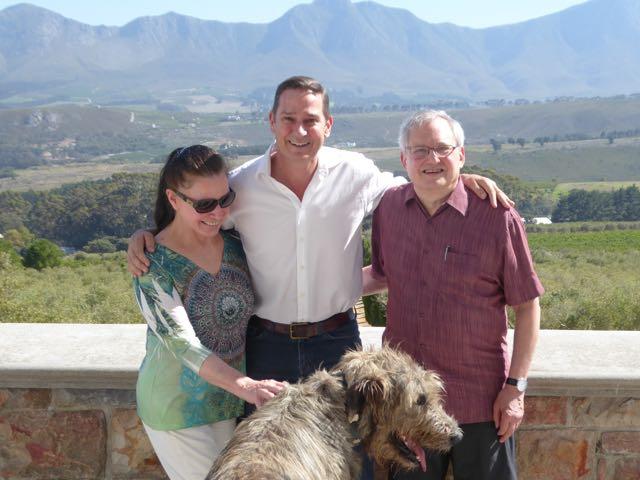 As we were leaving his winery Anthony Hamilton-Russell paused in mid sentence to straighten a picture infinitesimally askew on the wall. He had just explained to me how they were re-staining  the winery's support beams to match the wood of the barrels. This was not affectation but a man with a vivid sense of the feng shui of wine.
He is as meticulous as he is a polymath. In the day I was with him he poured out a deluge of details about sites, soils, winds, clones, sunshine, yields, diseases, barrels, clusters and aeration and corks.  I head about ongoing experiments and tasted ones with partial whole cluster fermentation and clonal and site selection.
But it takes more than creativity and attention to detail to make a great wine. One has to learn one's vineyards and their vines. There Hamilton-Russell has the advantage over most of its peers. Anthony's father began the estate in 1984. Anthony took over 25 years ago. He has learned which plots contribute best the varied pieces that make up the blend.
It also takes a talented team. South African wine lovers I met were all abuzz about Hamilton-Russell's new cellarmaster. Emil Ross worked with Anthony on the highly acclaimed 2015 Hamilton-Russell Pinot Noir and Chardonnay (Wine Spectator No. 11 last year!).
Those have sold out, but the 2016 Hamilton-Russell Chardonnay I tasted in his cellar has just arrived. Anthony and I both preferred it to the 2015.* It is more brooding, less opulent than the 2015, denser and darker toned. It is fine to drink now, but it still has layers to unfold and and will live longer. No idle comment that. At dinner, a 1986 H-R Chardonnay was sound through its tannish tint, and a profound 1997 tasted like a mature premier cru Chablis. The Hamilton-Russell vineyards and winemaking have much improved since then.
*I usually take an owner's comments on his current vintage with a grain of salt. Anthony's matter-of-fact sincerity needed no seasoning.
&nbsp
2016 Hamilton-Russell Chardonnay; Aroma, Fresh with ripe pear notes & mineral, oak apparent now; Mouth; Finely delineated acidity, dark green pear with hints of tropical fruit, very fleshy over a mineral core, tensile and brooding Very Good - Excellent $35
Special Case of twelve  $359.88 (29.99)
Special Case of six  $189 (31.50)
Arrives Tuesday
Order by phone at 617.367.8605, or reserve here: order@federalwine.com
&nbsp
Please pass this on to any friends who are wine enthusiasts.
&nbsp
- Len Rothenberg
&nbsp
© 2017 Federal Wine & Spirits