Please note that the browser you are using is either outdated or not supported by this website. For a better browsing experience, try one of the following:
2016 Alphonse Mellot Sancerre Rose
The Pinot Noir that Beat the Heat
June 27, 2017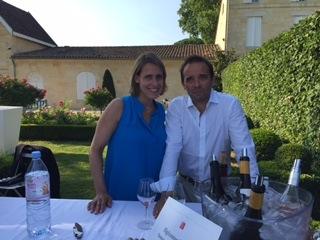 Helene & Alphonse Mellot at Ch. Jean Faure
&nbsp
The outdoor banquet last week at St. Emilion's Château Jean Faure was splendid. The scene was impressive. Just beyond neighbors La Dominique and Cheval Blanc one could see Petrus and l'Evangile.
             Owner Olivier Decelle had invited  some of the best owner-winemakers in France to pour their wines; Pierre Peters from Champagne, Gerin, Stephan Ogier and Pierre-Jean Villa from the Rhone, Trapet in Burgundy, Albert Mann from Alsace as well as his own Mas Amiel. Le Prince Noir, a Bordeaux one-star, catered. Olivier Poussier, a titlest of best sommelier the world, commented on the wines.
            But even at 7 o'clock the temperature still approached 100. All the reds and whites were iced. In the heat one wine stole the show from the ground cru Rieslings, Burgundies, and would it be ungrateful for me to say it, even Jean Faure for itself, was the relatively modest Pinot Noirrose from what the Revue du Vin de France calls Sancerre's best producer, Alfonse Mellot.
            The 2016 Mellot Sancerre Rose as perfectly suited to the evening; round fresh. all Pinot Noir, it had great thrust and intensity. It is more focussed than the very good 2015 we offered last year, with darker fruit. It does not have the weight of a New World Pinot Noir, but is more incisive and delicious.
            One reason it is so good is that Mellot has dedicated a special vineyard for Pinot Noir to be made into rose, one with more chalk and clay for drive.
            I liked it so much that I emailed my importer on the spot, and got back the answer that the wine would be arriving this week. It will certainly be on my drinking list this summer.
            This is a wonderful wine whether the cuisine is haute or burgers, and at any temperatures from 65 to 100. Try it with any thing from lobster (no lemon please) to almost any thing on the grill.
2016 Alphonse Mellot Sancerre Moussiere Rose; Color: very pale orange pink; Aroma: light fresh clean, very pretty fine,  finely elegant rather rich; Mouth: subdued ripe notes, rather full, pretty & fine, a thrust of ripe dark fruit focussed good structure; Very Good Plus 27.99; Mixed Case, 25.19; Case, 23.79
In stock
This wine associates with any others in the store for the mixed case discount
Free delivery in the greater Boston area on orders totaling $175 or more
Order by phone at 617.367.8605, or reserve here: order@federalwine.com
&nbsp
Please pass this on to any friends who are wine enthusiasts.
&nbsp
- Len Rothenberg
&nbsp